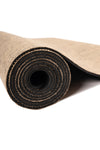 The Jute - Natural Rubber Yoga Mat
Sale price
Dhs. 162.50
Regular price
Tax included.
Product Name: The Jute - Natural Rubber Yoga Mat

Product Description: 

The Jute is an eco-friendly mat both practical and ethical for yoga enthusiasts of all levels. Composed of a natural rubber underside which guarantees a firm grip on the floor, The Jute provides a surface blend of nonslip jute fabric and a 100% natural rubber compound.

Product Dimensions:

Size: 183 cm x 61 cm, 4 mm thick
Weight: 2.4 kg

Care Instructions:

Opening: Yoga mats may release a slight but harmless odor when first unwrapped. Please unroll and air out your mat for 1-2 days before use. Your new yoga mat may start out with 'curly corners'. These will ease off over time and you will have a beautifully flat mat to practice on. It may help to roll the mat inside out while storing it away. 
Cleaning: Natural rubber has a more open cell structure than other rubber types. This means the mat absorbs water. Please don't immerse or soak your natural rubber mat in water. Spray your mat with vinegar/water solutions and wipe it down with a soft cloth. You can do this regularly to make sure your mat stays fresh and hygienic.

Drying: Dry your mat away from direct sunlight in a well-ventilated space. Hanging your mat is preferable as it can circulate freely around the surface. Don't use a dryer, it may deepen the smell of rubber and damage the material. If your mat has gotten a little too wet gently press it between 2 towels before air-drying.
Storing: The mat may fade and become brittle and unusable if exposed to the sun for extended periods of time. we recommend storing your mat in a mat bag when not in use and away from sunlight exposure.